Twas the night before July Fourth, and honestly I'm not sure how to feel.
Do I celebrate freedom, when so many are in cages?
Do I celebrate democracy, when the popular vote didn't win?
Do I celebrate liberty, when my rights are decreasing?
Do I celebrate the military, in which I have family serving?
Do I celebrate the pursuit of happiness, when I seldom see it?
Honestly, I don't much feel like celebrating Independence Day. It feels a little too ironic and short-sighted. It feels like we haven't come so far from where we were 200 years ago. And I guess that bothers me. But I think that there's something to be said about the here and now.
A couple hundred years ago, my ancestors began coming to America. They were escaping persecution, famine, war, the plague and more. They wanted to start over. And some came with nothing. Some came with their families, some came with more. But one by one they all came. One or two had been here in America since time immemorial, but almost everyone came from somewhere else. They were met with uncertainty and fear. They may have treated others kindly, or maliciously, I don't know.
For most of my life, I wondered about those people. About what it must have been like to travel to somewhere they had no ties and just start over. I didn't know their names then, but I wondered what they thought about, how it felt, why they chose what they did. And I know that coming to Kansas wasn't the same thing, but it has many similarities.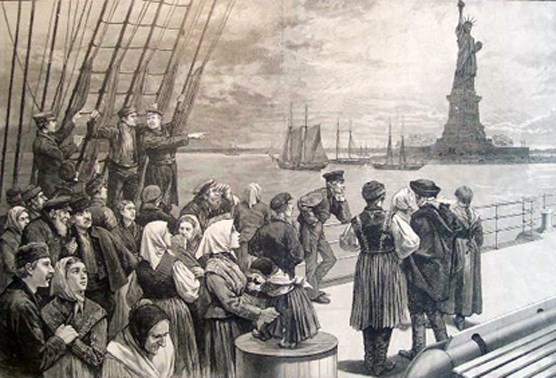 I drove through the night, we had car trouble, we left so much of our stuff behind. We came here without knowing anyone here. We came here to start over, and to be educated. We came with what we could stuff in our tiny vehicle and said goodbye to our parents, friends, homes. I remember passing cornfields I'd looked at for decades and wondering when I would see them again. I remember taking pictures of places we'd worked, we'd visited, just to keep the memory of how things were. I remember leaving in the dead of night, knowing it would be a long time before I'd feel comfortable with my choices.
And when we got here, nothing made sense. It was like exploring a new place with no understanding of where anything was, who anyone was. We were alone here for three ish weeks. And it was the longest, loneliest three weeks of my life. School began and things felt more familiar. Ish.
All that to say, I didn't come to Kansas because I was afraid for my life in Ohio. I came because I needed a chance at a better future.
I watch the news, as much as I can stomach, and I see the people coming to the borders, asking for no less than I did. Asking for no less than my ancestors did. And they are being denied. And it breaks my heart and boils my blood.
I am incredibly lucky to have had ancestors who took a chance on somewhere completely foreign. I am no less fortunate to have made my own journey for the same reasons. But the people coming today are being forced away, shoved into internment centers, subjected to all kinds of humanitarian terrorism. The difference between them and myself or my ancestors is one single thing. My ancestors were largely white and came from Europe. And that is not, in any way, acceptable.
Not like the brazen giant of Greek fame,
With conquering limbs astride from land to land;
Here at our sea-washed, sunset gates shall stand
A mighty woman with a torch, whose flame
Is the imprisoned lightning, and her name
Mother of Exiles. From her beacon-hand
Glows world-wide welcome; her mild eyes command
The air-bridged harbor that twin cities frame.
"Keep, ancient lands, your storied pomp!" cries she
With silent lips. "Give me your tired, your poor,
Your huddled masses yearning to breathe free,
The wretched refuse of your teeming shore.
Send these, the homeless, tempest-tossed to me,
I lift my lamp beside the golden door!"
New Colossus, Emma Lazarus
The base of the Statue of Liberty
This is my anthem. This is who I am. This is the America I believe in, not the tyrannical, dictator-led America that everyone sees. I stand for the immigrant's America.